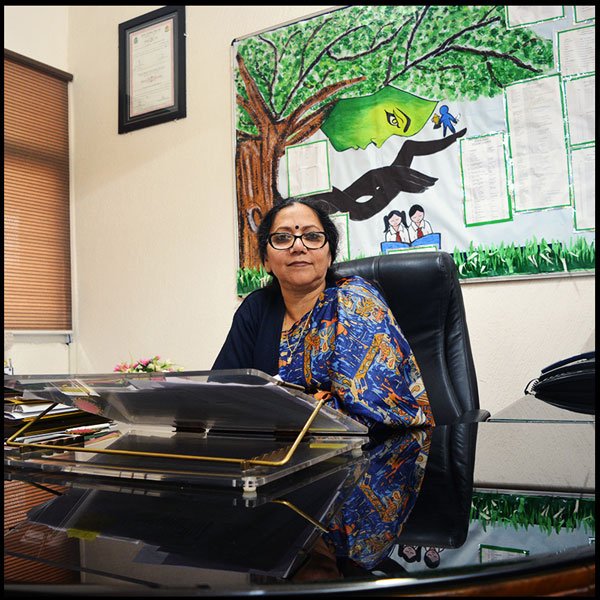 SECRETARY, Jammu Sahoday School Complex
Principal Army Public School (APS), Damana
Name: Dr. Renu Gupta
Age:
Current City: Jammu
Home Town: Jammu
Designation: Principal
School:  Army Public School (APS), Damana, Jammu
Past Work: Principal, Dr. Renu Gupta – a leading educationist, trend setter and an inspiring personality with a vision ' to accept the challenges to feel the exhilaration of victory ' , has over 16 years experience of working as a Principal in Army Public School Damana and is virtually the vanguard who leads the educationists by her innovative ideas and emancipated thoughts. Her personality is imbued with optimism and spirit of self- reliance which enables her to accomplish all ventures with resounding success. She took teaching as a challenging profession and has modelled a lot of patience, innovation and intrinsic motivation in order to bring about required development of students. Under her dynamic leadership , the school has progressed astronomically, keeping pace with the latest in the field of education, sports and technology. With her diligence and industrious efforts, the school has clinched Ist rank in small school category and won a cash award of Rs. 50,000 in 2012-13. She has been conferred with the prestigious COAS AWARD by Maj. Gen B S Daulta, MD AWES. She has also been selected as a master trainer for TAeL(Technology Accelerated Learning). Her genial and genteel countenance shall always remain as an indelible mark before us. (APS))
Contact:

0191-2604786

Email Id :

[email protected]

Address for Correspondance:

Principal, Army Public School Damana Muthi, Akhnoor Road, Jammu.
As Edward Gibbon said in one of his speeches that "the winds and waves are always on the side of the alert navigators, so let us prove our mettle to make every wind and wave favourable to ourselves ."
We, at Army Public School Damana are aiming towards the character-building and academic excellence with the same spirit, attitude and approach. the school in its continuous effort , believes in taking various steps to enhance the quality of education being provided to the children that includes Eng. Bridge Course, IT Training, Value Based Integrated Learning , CAL & counselling session by the school counsellor. We are working tirelessly to provide the right environment for our young ones to blossom into proud nd learned Indians. We inspire our young ones to dream and groom them to perspire for their dreams.
Words about Sahodaya Jammu School Complex
Views about Sahodaya Jammu School Complex
Through positive promotional efforts, the Board has helped schools come together and form an interactive and sharing relationship. At present, there are 260 such complexes which are active throughout the country, and share and care for each other; particularly those which are in close physical proximity.